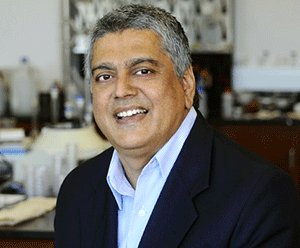 ECS celebrates Krishnan (Raj) Rajeshwar, a professor, researcher, former Interface editor, and former ECS president, by honoring him, on the occasion of his 70th birthday, with a Journal of The Electrochemical Society focus issue on semiconductor electrochemistry and photoelectrochemistry.
Topics of interest include but are not limited to fundamental studies on electrochemistry, photoelectrochemistry, and semiconductor devices.
Raj has spent a great deal of his career focusing in on the understanding and application of semiconductor electrochemistry and photoelectrochemistry himself. His research also includes work in solar energy conversion, environmental chemistry, and more. It's evident that Raj is passionate about his life's work.
"Electrochemistry drives the world," said Rajeshwar in a 2016 ECS interview, who went on to give the car battery as an example. "There was a time when people used a crankshaft to get the car started. Now it's all done. We turn a knob or just press a button; the engine comes to life. And it's thanks to electrochemistry, thanks to the lead-acid battery, and that's an incredible device."
"Our life, in fact, you can argue is electrochemistry, because a lot of processes within the body are bioelectrochemical in origin," said Rajeshwar. "Plants do electrochemistry via photosynthesis. So, electrochemistry is sort of everywhere, it's just that we don't realize it."
Make your impact on the world. Submit your research. Your contributions make a difference! Manuscripts must be submitted by October 17, 2018.