The content below was published in the winter 2017 edition of Interface.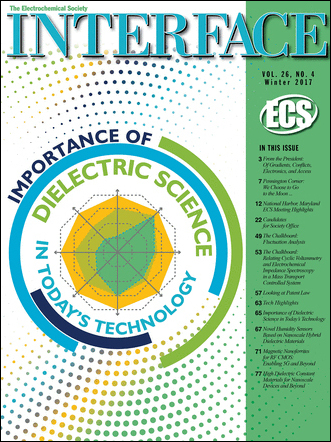 Each year ECS gives up to five Summer Fellowships to assist students in continuing their graduate work during the summer months in a field of interest to the Society.
Congratulations to the four Summer Fellowship recipients for 2017. The Society thanks the Summer Fellowship Committee for their work in reviewing the applications and selecting four excellent recipients.
2017 Edward G. Weston Summer Research Fellowship
Mapping Nanoscale Ion Transport
Lushan Zhou
Transport of ions at small length scales plays critical roles in almost all physical and biophysical processes. Investigation of local ion transport properties requires tools for direct visualization of spatially distributed ions at interfaces. Scanning ion conductance microscopy (SICM), a scanned nanoscale pipette, allows high resolution non-contact topography
imaging of samples bathed in electrolyte and therefore is well-suited for nanoscale ion transport studies. Read more.
---
2017 Joseph W. Richards Summer Research Fellowship
Graphene Intercalation: A Pathway Toward Stabilizing New Two-Dimensional Crystals
Zakaria Y. Al Balushi
Wide bandgap group-III nitrides, such as GaN, are integrated in multiple applications including laser-diodes and light-emitting-diodes, to power electronics and photovoltaics. However, for this materials system to potentially compete with silicon technology, it is imperative to implement GaN in a breath of new applications that may not be easily accessible solely using silicon. These emerging technologies may include tunnel junctions for ultra-low voltage and steep-switching applications, single photon emitters and polarization driven topological insulators for quantum transport. Read more.
---
2017 F. M. Becket Summer Research Fellowship
FeNi2Se4-(Black)TiO2 Nanocomposite: A Bifunctional Catalyst for Photoelectrocatalytic Water Splitting
Siddesh Umapathi
The demand for clean and sustainable energy source is one of the top priorities across the globe and hydrogen is one of the most potential candidates that can substantially address this demand. Generation of hydrogen and oxygen through catalyst-aided water splitting is one of the prime routes facilitating the hydrogen fuel economy. This technology also has immense applications in metal air batteries, PEM fuel cells and solar to fuel energy production, and has been one of the critical topics studied in recent times. Read more.
---
2017 H. H. Uhlig Summer Research Fellowship
Design of new Electrode Materials for Na-Ion Batteries from the Alluaudite Minerals
Debasmita Dwibedi
To empower an increasingly diverse range of energy-intensive applications, electrochemical energy storage in general and Li-ion batteries (LIB) in particular have become key players. But now they are at a critical juncture due to limited lithium resources, which has rekindled a growing interest in Na-ion batteries (NIB) for mass storage applications. This viability of NIB has led to an intensive exploration of wide range of "cathode materials." In this regard, several strategies can be pursued like high-throughput materials computation to design new materials with "magic phase composition" having both high voltage and high capacity, but success here is still limited. Read more.