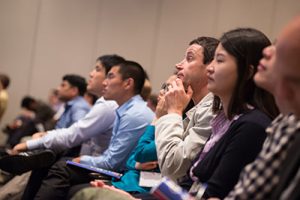 Professional development workshops are a growing feature of the ECS biannual meetings. Several new and recurring workshops being held at the 233rd ECS Meeting in Seattle, WA. The workshops are led by industry and career professionals in order to best serve the interests for mid- and early-career researchers and students.
New workshop additions
An Introduction to Intellectual Property
Instructor: Matthew Rappaport, IP Checkups, Inc.
In recent years intellectual property has become contentious with notable high-tech companies influencing patent rights. Nevertheless, IP continues to play a key role in the development and innovation ecosystem, particularly for start-ups and early-stage commercialization. In this short course, we will get down to basics in exploring the role of IP in protecting your early-stage development and commercialization. Along the way, we will review IP basics and explore portfolio development to help protect your inventions. Decisions such as internal R&D, strategic partnerships or licensing are informed by your portfolio. And finally, what to do when you have to enforce your rights. This workshop is 2.5 hours.
Grant Writing 101
Instructor: Michel Foure, Berkeley Grant Writing
Whether your career takes you to Industry, Academia or a National Lab, chances are that you will be intimately involved in writing research grant proposals. In fact, your career growth may largely hinge on your ability to raise funding. While each proposal is unique, lying at the intersection of the funding agency needs and your technical idea, there are very important guidelines that must be observed in order to maximize the probability of success. As this workshop is interactive, it would be particularly meaningful and useful for the participants to be prepared to work with a real example. This could be a proposal they have submitted in the past or one they anticipate to submit. This workshop is 2.5 hours.
Running an Effective Meeting
Instructor: Dennis Hess, Georgia Institute of Technology
Meetings are activities that play a critical role in decision-making and change within the successful operation of a team or organization. Unfortunately, meetings are frequently viewed as bad, ineffective, and a waste of time. Such conclusions are often justified because they result from ineffective leadership and unprofessional behavior by attendees. This workshop will explore reasons for the inappropriate conduct displayed and discuss approaches to facilitate effective and productive meetings.
Learn about the other professional development workshops being offered at the 233rd ECS Meeting.
Would you like to suggest or submit a professional development workshop for consideration? Email Shannon.Reed@electrochem.org for more information.