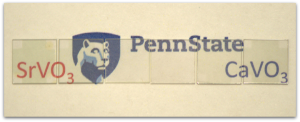 A new material developed at Penn State could mean big things for everything from smartphones to solar cells.
For over 60 years, the main material used in transparent conductor display has been indium tin oxide. With over 90 percent of the display market utilizing this material, it has left very little room for competitor materials.
While indium tin oxide has provided solid efficiency levels at a decent price point for the past half decades, expenses have recently skyrocketed on this material.
Current electronic devices, such as smart phones and tables, are primarily priced according to display material costs. Displays and touch screen modules make up 40 percent of the cost to produce a device, greatly outpacing other essential pieces such as chips and processors. It hasn't been until now that researchers have found a material that could potential replace indium tin oxide and potentially reduce device costs.
This from Penn State:
The researchers use thin — 10 nanometer — films of an unusual class of materials called correlated metals in which the electrons flow like a liquid. While in most conventional metals, such as copper, gold, aluminum or silver, electrons flow like a gas, in correlated metals, such as strontium vanadate and calcium vanadate, they move like a liquid. According to the researchers, this electron flow produces high optical transparency along with high metal-like conductivity.
"We are trying to make metals transparent by changing the effective mass of their electrons," said Roman Engel-Herbert, team leader and assistant professor at Penn State. "We are doing this by choosing materials in which the electrostatic interaction between negatively charged electrons is very large compared to their kinetic energy. As a result of this strong electron correlation effect, electrons 'feel' each other and behave like a liquid rather than a gas of non-interacting particles. This electron liquid is still highly conductive, but when you shine light on it, it becomes less reflective, thus much more transparent."
Compared to the traditionally used indium tin oxide, the new material would cost less than five percent its cost.
"Our correlated metals work really well compared to ITO," said Engel-Herbert. "Now, the question is how to implement these new materials into a large-scale manufacturing process. From what we understand right now, there is no reason that strontium vanadate could not replace ITO in the same equipment currently used in industry."
In addition to applications in small electronics, the team also has high hopes for the materials' potential in solar technologies. The new material has a compatible structure to that of organic perovskite materials, opening the door for a new, inexpensive, highly efficient solar cell.