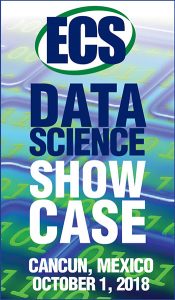 The ECS Data Science Showcase will highlight new electrochemical and solid state research and the open source software and datasets that underpin the work. Research talks will be complemented by a demonstration on how others can access, use, modify, and improve the open-source tools and data associated with the research project. The ECS Data Sciences Showcase is being led by the very capable and engaging team from the University of Washington—Matt Murbach, David Beck, and Dan Schwartz—who have brought you Hack Day (fall 2017) and Hack Week (spring 2018).
Because data science is a fast moving field, the Showcase will conclude with a "Late Breaking News" session to feature emerging electrochemical and solid state research that embraces open software and open data sets. Especially valued are contributions that feature early-stage research where alpha- and beta-testers can be solicited to improve new open research products. The organizers welcome direct email contact by prospective contributors to the Late Breaking News section, up to four weeks prior to the event.
The complete schedule may be found here.
---
Meet the organizers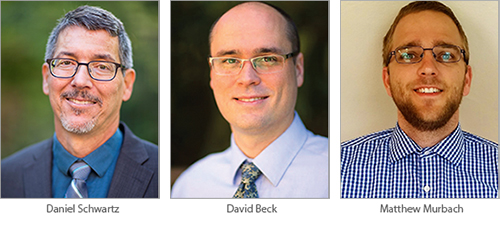 Daniel Schwartz is the Boeing-Sutter Professor of Chemical Engineering and Director of the Clean Energy Institute at the University of Washington, and brings electrochemistry and modeling expertise to the team. David Beck is a Sr. Data Scientist with the eSciences Institute at the University of Washington, and leads regular hackathons; he is Associate Director of the NSF Data Intensive Research Enabling CleanTech (DIRECT) PhD training program. Matthew Murbach is past-president of the University of Washington ECS Student Chapter, and an advanced data sciences PhD trainee; he has been leading the student section software development sessions on the UW campus, and has practical experience coaching electrochemical scientists and engineers in software development.
---
Speakers
Open Software Tools for the Analysis of Electrochemical Impedance Spectra
Matthew D. Murbach and Daniel T. Schwartz, Department of Chemical Engineering and Clean Energy Institute, University of Washington
Tip–Surface electrode Interactions and the Effects of These Interactions on Scanning Electrochemical Microscopy Response
Alex Mirabal, Dr. Scott Calabrese Barton, Michigan State University
Detailed Chemistry Modeling via Cantera:
A Pathway to Understanding Battery Degradation Mechanisms
Steven C. DeCaluwe,1 Daniel Korff,1 Amy LeBar,1 and Christopher H. Lee1,2
1 Colorado School of Mines, Department of Mechanical Engineering
2 University of Colorado, Colorado Springs, Department of Computer Science
A Data Science Approach for Quantitative Analysis of Total Differential Capacity Plots
L. Thompson,1 S. Alamdari,1* T. A. Cohen,2,3,4* R. C. Masse, 2* G. Z. Cao,2 V. C. Holmberg,1 J. Pfaendtner,1 and D. A. Beck1,5
1 Department of Chemical Engineering, University of Washington, Seattle, WA
2 Department of Materials Science and Engineering, University of Washington, Seattle, WA
3 Department of Chemistry, University of Washington, Seattle, WA
4 Molecular Engineering Institute, University of Washington, Seattle, WA
5 eScience Institute, University of Washington, Seattle, WA
Using Image Recognition to Identify Platinum Surfaces with Cyclic Voltammetry Scans
Heather Baroody and Tasleem Muzaffar, Department of Chemistry, Simon Fraser University
Open Science Strategy to Accelerate Adoption of Nonlinear Electrochemical Impedance Spectroscopy as a Battery Diagnostic
V. W. Hu, M. D. Murbach, and D. T. Schwartz, Department of Chemical Engineering and Clean Energy Institute, University of Washington
What Can Electrochemistry Learn from Chess?
Neal Dawson-Elli,1 Kishalay Mitra,2 and Venkat R. Subramanian1,3
1 Department of Chemical Engineering, University of Washington, Seattle, WA
2 Indian Institute of Technology Hyderabad, Kandi, Sangareddy, Telangana, India
3 Pacific Northwest National Laboratory, Richland, WA
Open Software for Electrochemical Battery Modeling, Estimation, and Control
Scott Moura, Assistant Professor, Director of eCAL, Hector Perez, Zach Gima, Saehong Park, and Dong Zhang, University of California, Berkeley