Gather with your colleagues
The plenary session is one of the highlighted events of the meeting, allowing participants from every symposia to come together and recognize some of the greatest minds in the field.
ECS President Yue Kuo will wrap up the first full day of the 235th ECS Meeting by welcoming meeting attendees and introducing the highly anticipated lecturer, Koen Kas from Ghent University. His talk is "Guardian Angels turning Sickcare into Healthcare."
The agenda also includes:
Allen J. Bard Award in Electrochemical Science, presented to Héctor Abruña, Cornell University
Gordon E. Moore Medal for Outstanding Achievement in Solid State Science and Technology, presented to David Lockwood, National Research Council of Canada
Be sure to add the talks of the Society, division, and section award winners to your meeting online program, they are in various symposia throughout the week.
---
The ECS Lecture
Monday, May 27 | 1700h
Lone Star A3/A4, Sheraton Convention Center
"Guardian Angels turning Sickcare into Healthcare" by Koen Kas, Ghent University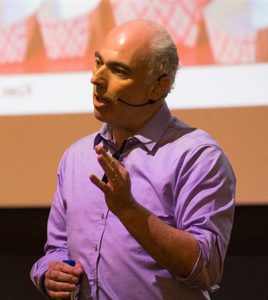 Koen Kas is a healthcare futurist, entrepreneur, professor of molecular oncology, acclaimed international keynote speaker, and author of Sick No More and Your Guide to Delight.
He is founding CEO of HealthSkouts and partner at HealthStartup.eu, a social network of novel health start-ups. His team combines real world data, collected via biomarker and sensor measurements, with design and business model innovations into novel, delightful experiences redefining health, helping shape a new breed of digital health companies.
Kas is a professor of oncology at Ghent University in Belgium, and chairs the scientific committee of the European Cancer Prevention Organization. He is an ambassador for Health House. He serves on the advisory board of seven pioneering healthcare companies and a digital health investor. He is a juror of the Prix Galien. He is an editor of the mHealth journal and the European Journal of Cancer Prevention.
Kas was CSO Oncology at Thrombogenics, where he spun out Oncurious, testing a novel drug for pediatric brain cancer. Before this, he was founder and CSO of Pronota, building a protein biomarker discovery platform and pipeline of four diagnostic programs. Prior to that, he was the director of drug discovery at Galapagos. Previously he set up and directed the cancer drug discovery program at Tibotec (now Johnson & Johnson). He started his career elucidating the molecular basis of two types of cancers.
Listen to our podcast with Koen Kas and read more about him here.
Abstract
On our way to redesign healthcare, we will learn to combine different layers of our biological code, data from visible and invisible sensors, and the connected Internet of Bodies/Things. These guardian angels will open up unseen opportunities for the way we deal with health and disease. With DNA soon becoming the new software, combining biology, chemistry, electronics, attractive design, and smart communication will provide the tools to (bio)hack our lives. But smart technologies and the data they generate are just a tool. When not trusted by the established care provider, and when not integrated and available on a personal data platform, healthcare will only be pseudo modernized.
The real magic happens when these tools start to anticipate things happening, to allow you to change behavior, to encounter novel experiences, and to introduce delight. Delight will convert us into health consumers, with your inventions supporting our digital twin as coach. This will move us away from current curative healthcare to precise, preventive, and even augmented healthcare.