Congratulations to John Holoubek, University of California, San Diego, and Singyuk Hou, University of Maryland, College Park, the 2022 ECS Battery Division Student Research Award winners. Holoubek and Hou presented their award talks at the 242nd ECS Meeting in Atlanta, GA, where they received the awards from Y. Shirley Meng and Brett Lucht.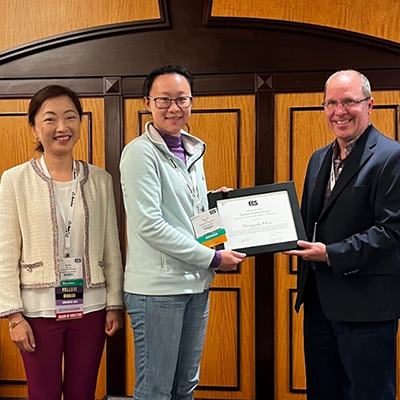 Singyuk Hou
University of Maryland, College Park
A03-0211 Energy Storage with the Abundant Divalent Metal Batteries
Singyuk Hou's academic career has focused on the research of electrolytes and interfaces for metal anodes. After completing her BS and MS in Chemistry, she started her PhD under the supervision of Professor Chunsheng Wang at the University of Maryland, College Park. Her PhD research is on the molecule-level control of the solvation structure using chelants that promote the charge transfer kinetics of magnesium and calcium metal batteries. It also extends to SEI engineering for high-energy lithium-ion and lithium metal batteries by developing novel electrolyte systems. She has published more than 50 peer-reviewed papers and co-authored four patents.