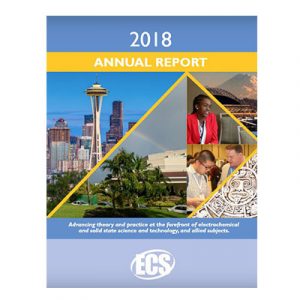 A message from Chris Jannuzzi, ECS Executive Director & CEO
As the executive director of ECS, it is my very great pleasure to present the Society's annual report. 2018 brought about great transitions for ECS, transitions which will impact the Society for years to come.
Not only did the staff leadership change for the first time in nearly three decades, we have begun the process of redefining ECS's core business operations to build on our organization's 117+ year legacy of advancing electrochemical and solid state science and technology for the benefit of humanity.
From the unprecedented growth of our student chapters around the world, to the over $2 million ECS has invested to support open access authors through Free the Science, the activities detailed in this report will no doubt energize and inspire your engagement with ECS.
ECS is a member-led, member-driven organization, and so each of us—members, volunteers, and staff—can take pride in the accomplishments of 2018 because it is our partnership that has made this all possible.