What you need to know before you go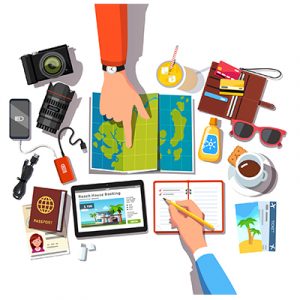 Success in the industry takes more than a passion for science—it requires staying up to date on industry trends, presenting and publishing your research, and expanding your network. Not only will you find all of this at an ECS meeting, but a little preparation goes a long way when it comes to making the most of your time during the week.
Plan ahead
Pack accordingly
The attire for the conference is business casual. Session rooms can get chilly so we recommend you dress in layers and wear comfortable walking shoes.
Atlanta's weather is warm in October, with the average daily temperatures being 70°F / 21°C. Check out the forecast to plan accordingly.
First time attendee?
Visit our first timer attendee page to learn how to arrive and thrive at the meeting. Make sure to add the meeting orientation to your schedule for Monday at 0730h in the group registration area.
Presenting?
Click here for information on both oral and poster presentation requirements, like session room equipment and poster dimensions.
What to bring:
Business cards – You will be meeting a lot of industry professionals, so be prepared to help them remember you by handing out your business card. A good place to stash your business cards is behind your name tag in the plastic sleeve.
Day bag – Between early sessions and evening poster receptions, meeting days are long. Bring a backpack or briefcase to carry any items you need with you as there will not be many opportunities to go back to your hotel room throughout the day. Items for day bags may include: a portable charger, gum/mints, the meeting program, a folder with your resume, your computer, etc.
Snacks and a reusable water bottle – Stay hydrated and fueled!
A notebook & pen – It may sound obvious but you want to make sure you have these on hand at all times.
Name badge – Once you get your badge at registration, make sure you keep it safe. You will need it to access the session rooms and exhibit hall and there is a $30 charge for reprinting lost badges or tickets.
Who to ask
ECS staff members can easily be picked out of a crowd. Look for our signature blue polos with the ECS logo or a nametag with a "Staff" ribbon. We are always happy to take a moment and answer your questions or listen to feedback. Contact meetings@electrochem.org today if you have specific questions or concerns you'd like to discuss in advance.
Important things to remember
Registration will open at 1600h on Saturday, and then every morning through Thursday at 0700h, in the group registration area on the first floor of the Hilton Atlanta.
Access the meeting program online. Between the online version and the meeting app available in the App Store and Google Play, all of the same information is available at your fingertips with minimal environmental consequences!
Be sure to check the ECS mobile app throughout each day to check the cancelled presentation list prior to attending a session.