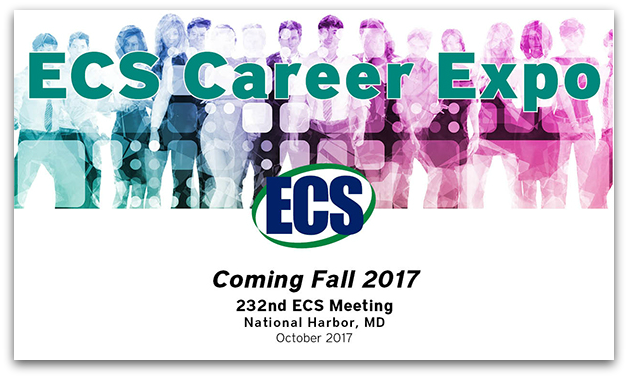 At the 232nd ECS Meeting, we will feature the ECS Career Expo. This expo will be a tremendous platform for organizations to recruit potential employees from various backgrounds during ECS biannual meetings. This is an opportunity for employers to recruit the best and brightest in electrochemical and solid state sciences. The ECS Career Expo will serve as a perfect addition to our meeting and will help our job seeking attendees maximize their career potential by gaining access to a wide range of organizations.
Participating employers are offered the options to purchase a semi-private exhibit booth or an interview table to host interviews, meet and greets, or showcase their organizations. Both options include brand exposure through the meeting website, printed program and signage as well as the increase foot traffic on the exhibit floor which hosts our other exhibits and poster sessions.
Job seekers will be able to meet with employers to discuss career opportunities and how they may fit within their organization. Job hunting is stressful and competitive; let ECS aid you in your search for your seamless transition into a successful career.
If you have any questions or would like to get involved with the ECS Career Expo, contact our Director of Membership Services, Shannon.Reed@electrochem.org.