Society, division, and section awards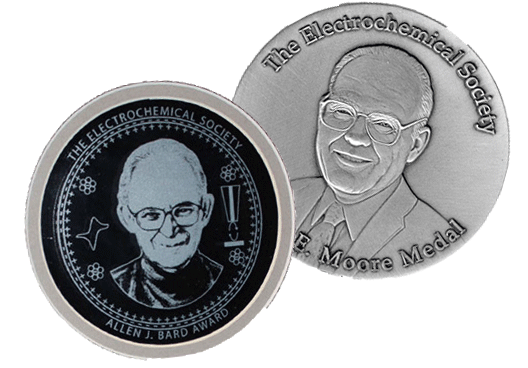 ECS is pleased to announce the 11 award winners for the Society's spring biannual meeting.
All awards will be presented at the upcoming 231st ECS Meeting, taking place May 28-June 1, 2017 in New Orleans, LA, where ECS will celebrate its 115th anniversary.
"ECS has a rich history of providing award recognition for scientists and engineers in our field," says Roque Calvo, executive director of ECS. "The awards being presented at the 231st ECS Meeting highlight some of the most influential researchers in the fields of electrochemical and solid state science."
Doron Aurbach will receive the 2017 Allen J. Bard Award in Electrochemical Science in recognition of his distinguished contributions to the field. Aurbach is a professor in the Department of Chemistry at Bar-Ilan University in Israel, where he and his team research and develop rechargeable high energy density batteries and supercapacitors, as well as novel electro-analytical and spectro-electrochemical methods for sensitive electrochemical systems. He has published more than 540 papers and is a technical editor of the Journal of The Electrochemical Society (JES).
"The Electrochemical Society is my scientific home," Aurbach says. "I've been affiliated with the Society from the beginning of my career, nearly 35 years ago. Receiving this award is one of the greatest moments of my scientific career."