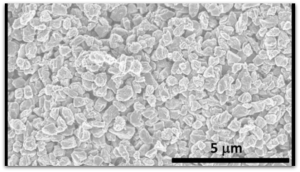 A new form of carbon that has unprecedented strength and magnetism properties is making its mark in the world of materials science.
Researchers from North Carolina State University have recently developed a new phase of carbon called Q-carbon—an extraordinarily strong material that differs from carbon's other two solid forms.
The first solid phase of carbon is graphite. Graphite is composed by lining up carbon atoms to form thin sheets, which results in a thin and flaky material. The other phase of carbon, diamond, occurs when carbon atoms form a rigid crystal lattice.
Third Phase of Carbon
"We've now created a third solid phase of carbon," says Jay Narayan, lead author of the research. "The only place it may be found in the natural world would be possibly in the core of some planets."
Q-carbon differs from both existing phases of carbon, with unique characteristics that researchers did not even think were possible prior to its development, such as its magnetic and glowing qualities. To fully understand its novel qualities, it's essential to understand how Q-carbon was developed.