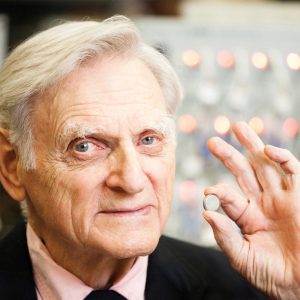 The Electrochemistry Society announced the creation of a new biannual award at Nobel laureate John B. Goodenough's 100th Birthday Celebration on July 25, 2022. "When we announced the new award at his 100th Birthday Celebration, Prof. Goodenough turned to the audience and said, 'Thank you. Thank you all very much, and remember this: one step at a time!' John's unprecedented years of service to the scientific community are an inspiration to us all," said Christopher Jannuzzi, ECS Executive Director and Chief Executive Officer.
The John B. Goodenough Award of The Electrochemical Society
The new award recognizes distinguished contributions to the fundamental and technological aspects of electrochemical materials science and engineering. The recipient will be renowned for paradigm-shifting contributions in the fields of electrochemical and/or solid state science and exceptionally creative experimental or theoretical studies that opened new directions in electrochemical energy storage, electrocatalysis, and/or solid ion conductors and high temperature materials for electrochemical devices. The first recipient will receive the award and present a general address at the 243rd ECS Meeting in Boston, MA, in May 2023.