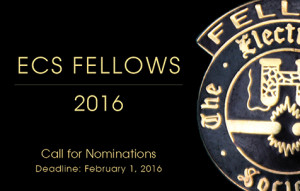 We are currently accepting nominations for the prestigious honor of Fellow of The Electrochemical Society. This award was established in 1989 for advanced individual technological contributions in the field of electrochemical and solid-state science and technology and for active membership and involvement in the affairs of The Electrochemical Society. The award consists of a scroll, lapel pin and eternal bragging rights.
Now is the time to look around the room at your colleagues, recall that Division Member who you shared a meal with at our last bi-annual meeting or the committee member who you work with to further the ECS mission and question whether s/he is a Fellow. You may be very surprised at who has achieved this recognition and who has not. View the full list of ECS Fellows and take a moment to nominate the 2016 class.
Read the rules and submit a nomination form today.
Application Deadline: February 1, 2016.