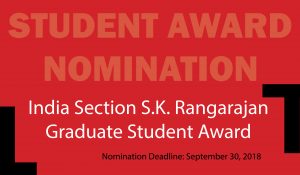 Nomination Deadline: September 30, 2018
You are invited to nominate qualified candidates for the following section award:
The India Section S.K. Rangarajan Graduate Student Award was established last year to assist a deserving student in India to pursue a career in disciplines related to electrochemistry and solid state science and technology. The award was created to honor the memory of Dr. S.K. Rangarajan for his dedication and contributions to electrochemical science and technology.