Prof. Xiulie "David" Ji
Associate Professor
Oregon State University, U.S.
Date: March 04, 2021
Time: 1000h PT / 1300h ET
Presented by the ECS Pacific Northwest Section

The design of storage batteries entails a holistic view. This webinar summarizes five dimensions of considerations for the design of storage battery chemistries from a chemical reaction's point of view. Electrode materials and ion charge carriers are the reactants; electrolytes are the reaction medium; battery configurations describe the operation fashion of the reactors; the electrode-ion chemical bonding reflects the nature of the chemical reaction, which affects the thermodynamic and kinetic properties of batteries. The permutations of these five dimensions result in ten unique approaches. The chemical-reaction nature of batteries can be a vantage that unifies rather than compartmentalizes a new paradigm of storage battery research.
Benefits of attending the webinar
Learn about:
Basic considerations in design storage battery chemistries.
Different types of batteries, including rocking-chair batteries, dual-ion batteries, and reverse dual-ion batteries.
Recent conceptual advances on storage batteries that employ non-metal charge carriers such as proton, ammonium, halides, and superhalides.
Pre-registration is required. ECS membership is not a pre-requisite for participation. There is no registration fee.
Prof. Xiulei Ji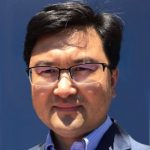 Prof. Xiulei "David" Ji is an Associate Professor of Chemistry at Oregon State University. His research interests pertain to the design principles of materials chemistry for electrochemical energy storage. He is a 2019, 2020 Highly Cited Researcher of the Web of Science Group. He received 2016 NSF CAREER Award. He is currently an Associate Editor of Carbon Energy, a Wiley journal. He obtained his PhD in Materials Chemistry from the University of Waterloo, Canada, in 2009. During 2010-2012, he was an NSERC Postdoctoral Fellow at the University of California, Santa Barbara, U.S.
Consult the ECS blog for more information about the ECS Pacific Northwest Section.