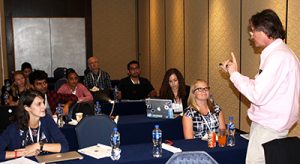 ECS works with its education committee to provide continuing education and professional development programming to help our students and young professionals develop skills for their current and future careers. ECS provides new topics at each biannual meeting and helps attendees build their professional network.
ECS invites your organization to get involved and support these initiatives through a sponsorship. Below are the sponsorship options for our 2019 biannual meetings. These meetings give you the opportunity to engage with our students and our young professionals while also helping to support these critical ECS programs.
The benefits of these programs include:
Brand exposure on the meeting program, app, website, and signage as meeting sponsor
Signage with your logo near the event
Emails of attendees who participate in the programs
Literature display in the session room for company collateral
Complimentary meeting registration and exhibit registrations
Organization name included as the sponsor in any email regarding the programs
Photos taken with the award winners and included in any articles about the award winners (Student poster session only)
Student poster awards
The award is given to the best poster presentations at an ECS biannual meeting; if possible, one award in the field of electrochemical science and technology and the other in the field of solid state science and technology. The awards acknowledge the quality and thoroughness of the candidate's work, originality, and independence of the candidate's contributions, significance, and timeliness of research results, and depth of understanding of the research topic and its relationship to the fields of interest to The Electrochemical Society.
---
ECS mentoring session sponsorship
ECS is offering a mentoring session that offers students and early career researchers an opportunity to join a roundtable with five peers and established ECS members to build contacts, ask questions about career paths and opportunities, and share in stories about professional life. Sponsoring this session will give your company exposure to students and early career researchers who are looking to accelerate their careers
---
Resume review sponsorship
ECS provides a resume review which is a one-on-one session with an industry leader and expert on resume development for our attendees. Get your organization in front of attendees who are looking to advance their careers by sponsoring our resume review session.
---
Short course sponsorship
ECS short courses are all-day classes at our biannual meetings designed to provide students or the seasoned professional with an in-depth education on a wide range of topics. Taught by academic and industry experts, the small class size makes for an excellent opportunity for personalized instruction helping both novices and experts advance their technical expertise and knowledge. Get your organization in front of this specialized audience by sponsoring one of our short courses. Click here to see the latest titles for our upcoming short courses.
---
Professional development workshop sponsorship
ECS provides professional development workshops for students, young professional, and mid-career researchers. Help support professionals who are looking to begin their career or refine their skills by sponsoring one or all of the below:
Essential Elements for Employment Success
Managing and Leading Teams
Running an Effective Meeting
Grant Writing
Intellectual Property 101
---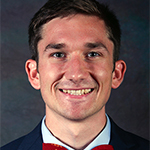 Professional photo sponsorship
In the ECS exhibit hall, we have added the opportunity for attendees to have headshots taken free of charge! This sponsorship is a great way to connect with our audience who are eager to jump-start their careers.
Interested in one of the above sponsorships or want to learn more? Reach out to sponsorship@electrochem.org.